Contact Us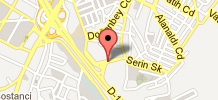 Call Center:

+90 (216) 571 19 19

E-mail:
Contact Us
Corporate Name

sahibinden.com

Business Name

Sahibinden Bilgi Teknolojileri Paz.ve Tic. A.Ş.

Responsible

Filiz Saran

Business Index Number

433844

Registered E-mail

Central Registration System

0739014655600017

Location of Headquarters

Değirmen Yolu Cad. No:28 Asia OfisPark A Blok Kat:2
34752 Ataşehir/İstanbul Türkiye

Call Center

0 850 222 44 44

Support Center *
(*) If you cannot find the related topic that you need help on Support Center, you can also request help via yaziliiletisim@sahibinden.com.