Contact Us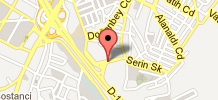 Call Center:

+90 (216) 571 19 19

E-mail:
ABOUT US
"In the beginning of the millennium, our journey had started with only 2700 ads...
The first-place-to-look in e-commerce and e-classified, sahibinden.com was established as an "Aksoy Group Company". Beyond of being an e-commerce company, sahibinden.com, as the biggest marketplace of Turkey, is also the ambassador of e-commerce history in Turkey.
In his 17th years, with its 500+ employees, 42.6 monthly active users, 263 million visits, 8 billion pages views and 5 million active-listings, sahibinden.com is still the pioneer and the best of its business area. With its 10 different verticals, sahibinden.com has unique infrastructure with 2 data centres in Istanbul and Ankara, 2000 servers and 10 gbps broadband connectivity, to be able to provide 7/24 seamless experience.
With its innovative products and services, sahibinden.com consistently renovates itself, provides "always better" end user experience and collect prominent awards in the national and international arenas.
sahibinden.com has won the title of the first e-commerce company in Turkey to be selected as "Green Office" by May 2016 with its head office in Istanbul. With its passionate professional human resources, strong technological infrastructure and customer-focused service approach, sahibinden.com continues to work with all its power by touching the lives of its users for creating value, leading them to reach their dreams and to provide best customer experiences.
To buy, to sell, to rent and to explore, address is always the same..."